[Originally published in the Vanuatu Daily Post.]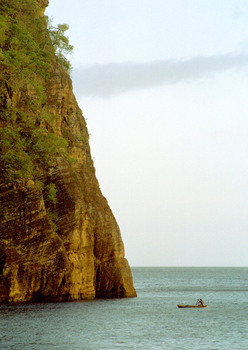 A shocking story is emerging from the Northern Vanuatu island of Maewo. Last week, two brothers, fugitives from Kaiovo village, appeared at Lolowei Hospital on neighbouring Ambae island. One was treated for injuries. Witnesses said he claimed he had been stoned following a village meeting. The other walked onward to Tumsisiro, an Anglican mission, and requested sanctuary.
Before long, a caller from Maewo ascertained the brothers' presence in Ambae, and a motor boat was dispatched. Reports estimate that up to a dozen men armed with axes and bush knives arrived at Lolowei. They proceeded to the outpatient clinic and promptly murdered the first brother. Stunned onlookers watched as they struck him dead, then dragged his corpse down to the shore, mocking and abusing it as they went. The second brother met the same fate soon afterward.
Within hours of the events, the story began to spread that accusations of sorcery and murder were the cause of this tragic episode. As with most such events, speculation is rampant and details are difficult to corroborate. One distraught Ambaean related a tale that seems to align well with others:
She told of a meeting held in Kaiovo to deal once and for all with the death of two local school employees, widely suspected to have been poisoned. At its climax, a local church elder announced that God had given him the names of the perpetrators. He had no sooner identified the two brothers and an elderly male accomplice than the local chief instructed the villagers to kill them.
Before the brothers could react, she said, one of the villagers picked up a large volcanic cooking stone and launched it at one of them. He missed, and the two began to scramble to their feet. Another stone quickly followed, striking one of the brothers and injuring him. They nonetheless managed to escape, leaving the older man to be beaten severely by the villagers.
Reports indicate that they obtained a canoe and paddled across several kilometers of open ocean to Lolowei's tiny cove. It was there that their pursuers caught them up and murdered them.
Poison, witchcraft, religious visions and mob justice. One could easily dismiss these events as the actions of a backward, primitive people, benighted in superstition.
We should be careful not to mock too loudly, lest we mock ourselves.