This is a place to store my columns and various smaller written pieces, most of which deal – one way or another – with technology and society on the frontiers of human existence.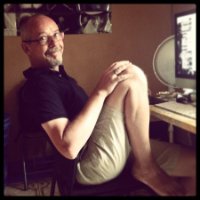 Graham Crumb was my nom de web for two decades. You'll still see a lot of material lying around under that name. I'm a writer, photographer, software developer and consultant living and working in the South Pacific islands of Vanuatu, doing my best to help out in one of the furthest outposts on the digital frontier.
My current gig is Media Director at the Vanuatu Daily Post and Buzz FM 96. I'm responsible for editorial and news content for these outlets and for our online presence.
Copyright Notice
All content on this site may be used by others, subject to a Creative Commons license. Briefly, you're free to share this content, or to alter it for your purposes, but you need to attribute the original work to me, and if you distribute the results, it must be under the same terms as the original (i.e. this) license. See this page for details.