By Graham Crumb | December 11, 2013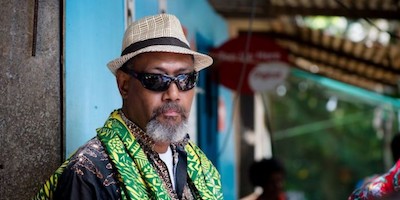 Jean Sese, lifetime public servant, passed away on November 8, 2013, aged 55
[Originally published in the Vanuatu Daily Post]
I last saw Jean Sese a few hours before he suffered a fatal heart attack. He was at his customary seat at chief John Tarilama's nakamal. We shared a few pleasantries and he was kind enough to chuckle at my feeble humour.
I'd always been nervous around him, and more than a little intimidated, even though he gave me no reason to feel that way. He could be effortlessly charming, even gracious, and if he seemed at all forbidding, it was by virtue of his implacably calm demeanour. He was a deep current untouched by surface storms. And in a country often roiled by the tempestuous passions of its leaders, his influence was invaluable.
Vire Dare Naure Jean Sese was director general of the prime minister's office in Vanuatu for years. I was only two weeks in-country when I first met him. I had been asked to brief the PMO on a matter that required an impartial analysis, and given that I didn't know jack about Vanuatu at the time, I was as impartial as could be. Mr Sese listened to me patiently for about an hour and a half, asked some pointed, probing questions, then thanked me for my time.
If this is the calibre of the senior civil service, I told myself as I left, then Vanuatu has a lot going for it.
Over the years, I got to see him at work, and came to admire him more than just about any other leader in the country. He was calm, confident –even cool– and one of the very few people in national politics who emerged untainted and admired by all.
Prime ministers came and went, but Jean Sese remained. Read the rest of this entry »
Topics: journamalism, social commentary, soft-core | Comments Off
By Graham Crumb | December 11, 2013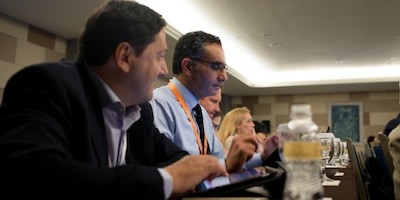 The Internet Governance Forum is sprawling, unfocused and formally useless. You should go.
I hate talking shops. Most sensible people do. If you are involved in any way in policy making, advocacy –or heck, if you just have to work for a living– the last thing you want to do is waste time talking. The Internet Governance Forum is a global conference that draws together governments, telecommunications interests, standards & technical management bodies, NGOs & social development groups… well, pretty much everyone who gives a fig about the internet. It was one of very few tangible results to emerge from the 2003 World Summit on the Internet Society, a UN-sponsored get-together that attempted (and ultimately failed) to address a widely-held perception of US dominance of the internet's governance structures.
The IGF, quite deliberately, was designed to have no regulatory authority, no policy levers and indeed, no formal mandate to advocate even for issues about which the entire world is in screaming agreement. It can't even publish findings. And that is its genius.
It's a sprawling, unfocused event with disparate interests. Discussions cover everything and anything even remotely related to internet governance, from human rights and freedom of speech to child protection to spam and cyber security to standards development and law. It draws thousands of attendees from all walks of life. It's uneven in quality and sessions range from the enlightened meeting of minds to fractious verbal brawls. As Winston Churchill might have said, it's the worst possible forum we could possibly have, except for all the others. Read the rest of this entry »
Topics: geek, journamalism, soft-core, wonk | Comments Off
By Graham Crumb | August 23, 2013
Pacific island countries could –and should– do more to help one another
[Originally published on Pacific Politics.]
The recent breakdown of Vodaphone Fiji's investment in Papua New Guinea's BeMobile is just the most recent in a series of missed opportunities in cross-investment that could not only improve small island economies, but mitigate against some of the worst aspects of large-scale development projects in the Pacific.
Pacific island nations possess a chronic, unfixable weakness: With few exceptions, their economies are so small and fragile that a failure which might cause only ripples in a larger economy can hamstring theirs for years. Furthermore, their diminutive markets make them unappealing to most investors. Although they're often put in the same basket as Caribbean states, their distance from other markets renders them unique – and in the eyes of many, uniquely unsuited for investment.
It serves no one's interests to imagine that the development and financial approaches that work well in other developing states can simply be cut-and-pasted into the Pacific. And yet, far too often, this is the hole into which our development pegs are hammered. Although development banks and donor nations offer loans at extremely low interest rates, the assumptions under which funding is offered are sometimes unrealistic. And because return on investment is generally smaller than just about anywhere else on the planet, governments are expected to offer either guarantees or exclusive concession rights to investors, or to become shareholders themselves, and sometimes both.
Topics: geek, journamalism, soft-core, wonk | Comments Off
By Graham Crumb | August 23, 2013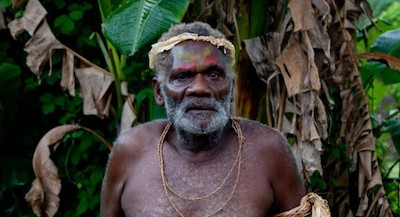 Global villagers could learn a thing or two about information security from Pacific island societies
[Originally published on Pacific Politics.]
It's telling, and rather tragic, that even after the lessons of Wikileaks, democratic governments have still not learned how to deal with secrets. Ask a Pacific islander, and he'll tell you how. If he trusts you. It's high time for global villagers to take a seat by the fire and take a lesson on surveillance, censorship and secrecy from societies that have been using them as their stock in trade for nearly 3000 years.
Viewed from this side of the lagoon, one of the most startling aspects of the Manning and Snowden scandals is that people, organisations and entire governments were taken utterly by surprise by the breakdown of secrecy. If it weren't so damaging, the US's flailing reaction would be comical. The Obama administration's actions resemble nothing so much as a grasping debutante whose connivances have been exposed mid-cotillion. Swearing vengeance, warning others off from even talking to the tale-teller, harping shrilly about the damage, the harm, the lost integrity – it's all a bit much, really. Unfortunately, this particular prom queen has nukes.
Topics: geek, journamalism, social commentary, wonk | Comments Off
By Graham Crumb | August 18, 2013
I just posted this to Facebook, but they deliberately design their service as a memory hole, so….
Facebook is designed as a memory hole. Its search tools are crippled and external search engines are not allowed a look in. The manner in which posts and comments are displayed is predicated on their ephemerality. We -they- are deliberately repudiating posterity.

It galls me to no end that I have to bitch about this on Facebook in order for it to be seen. Nobody will even remember I said it….
Topics: geek, hard-core, social commentary, wonk | Comments Off
By Graham Crumb | May 17, 2013
In an online discussion concerning an 'old-school' geek's fear of change, there was a lot of back and forth concerning luddism on the one hand and change for change's sake on the other. At one point, someone chastised the poster for his trepidation.
"I'm going to guess he's going to look back on his life and realize that he was dumb to think he'd seen it all at age 24. He talks as though the Third Age of Middle Earth is ending…"
In some important ways, it is. The process isn't complete, but there is a fundamental change happening, and it will discomfit some of us.
The days of 'Homesteading the Noosphere' (as ESR put it), are coming to a close. Scale, network topologies, business models and legal encroachment on the principles of individual online freedom are all conspiring to make the technological world we live in substantially more constrained than it's been since the internet became part of our lives.
The land rush is over, the cowboys are gone (either buried or rich) and the homesteaders are being bought out by the speculators and tycoons. Community-based governance is under siege by national and international interests.
And this is being reflected in the tech world. The craftsman's approach to software (always greater in repute than in reality) is decidedly more difficult to practice as a trade than it was. Toolkits are giving way to frameworks and apps replace applications. Backyard-mechanic roadsters and dirt-track races are swallowed up by Nascar – VCs get us excited by the prospect of building only big enough to sell out to someone bigger.
The physical networks themselves are being taken back by the telcos and proffered to governments for surveillance in exchange for ever more egregious rent-seeking behaviour. What we used to call sharing is now piracy. The word 'copyright' now means 'don't copy at all, ever.'
And in the midst of it all, we're grateful to lockin-vendors who make Free software difficult, if not impossible, to use. We rent what we used to own. Even our identities are no longer our own.
I grieve to say it, but unless there's a sudden and immense resurgence of the DIY spirit, especially in peer networking and distributed data, we're going to fall back into the bad old days of the dumb terminal and the smart network. And that network's smarts will not exist for our benefit.
I'm pushing 50 now, and do I fear change? Not really. I just regret the lost freedom, the creative anarchy of the '90s, the ability to hack something cool and new, the chance to achieve things never before possible. It's not gone yet. We could still turn things around. But every day we don't brings us a day closer to the day when we can't any longer.
Topics: geek, hard-core, social commentary, wonk | Comments Off
By Graham Crumb | March 14, 2013
It's like clockwork, really. Someone stumbles across a story purporting to show the benighted and backward peoples of some far corner of the world, and everyone jumps up, bemoaning the fact that, in this day and age, people are still capable of ignorance, superstition and occasionally, brutality to others.
This month's installment comes to us courtesy of new media. Mobile phone photographs of the torture and execution of a woman from the highlands of Papua New Guinea caused a global furore, typified by the Global Mail's supercilious headline: It's 2013, And They're Burning 'Witches'.
Who is this 'they' you keep talking about?
It's really hard to know where to begin with a story like this. Yes, witchcraft, magic and sorcery are still practiced widely – not only in Papua New Guinea, but in many parts of the world. To give you an idea how ingrained it remains in some societies, Vanuatu recently saw a man plead guilty to it. Yes, he himself believed that he had injured someone by magical means.
Happily, in the rest of the world, such superstitious folderol no longer exists, right? In place of magic, we have graduated to ghosts, angels and auras, terrorists, extra-terrestrials and illegal aliens. Honestly, do we even pause to see what's on the (so-called) Discovery channel before writing headlines like this?
Sure, you reply, but at least we don't lynch people any more. We don't drag them from their home, cut them with bush knives, shave their head, douse them with acid and then burn them alive. That would be a fair point, if it were true.
Read any national news service long enough and it's bound to come out – whether it's a gang rape in India, an honour killing in Pakistan or in the London suburbs, murder of albinos in central Africa, race-baiting in the American south or gay-bashing in Moscow… it's still there. Everywhere you look, the weak and the outcast are preyed upon. It's not happening everywhere all the time, but it's happening.
And yes, it's unutterably wrong.
It's also innately human. It may come from our most bestial nature, and rule of law does sometimes operate to curb it, but cruelty, victimisation and scapegoating remain essential, albeit shameful, parts of human nature. If you live in a society with a functioning police force and a more liberal set of social standards backed by solid legislation, you may be able to operate under the illusion that such inclinations have somehow been expunged from your nature. As someone who is dealing (not abstractly, but right here, right now) with the threat of violence in a society that condones it, let me assure you: it has not.
Good laws may help, if only to raise awareness and make it a matter of public record that violent abuse, no matter what motivates it, is simply wrong. But having laws on the books serves no purpose if society itself chooses not to reject this behaviour. And frankly, that won't happen if one half of it is busy sitting back and castigating the other.
There is nothing easier than name-calling when someone's already called you names. So my advice to you holier-than-thou commentators is to try a different tack. Start from the assumption that we are, all of us, beasts at our core, with only social opprobrium and the policeman on the corner to hold us back.
Napoleon's famous observation about a world power built from a nation of shopkeepers can guide us to a useful next step. The more our day-to-day lives are invested in peace, politeness and order, the more reason we have to use the state's resources to defend good behaviour. Never forget that, no matter how difficult it may be to accept, the violent abuse of vulnerable people is more often than not punishment for social transgression. The secret therefore, is to change what is seen as transgression. We achieve this by embracing others, welcoming them into the fold, and sharing our prosperity, wealth and values.
Facile, mocking headlines decrying the Other take us in exactly the opposite direction.
By the way, did nobody else remark upon the fact that, were it not for mobile technology, this killing –like the countless others that came before– would never even have been remarked upon? The very fact that the criminal act was recorded and disseminated speaks to an opportunity for change. If, that is, we get past our own prejudices and embrace it.
[This was originally published in Pacific Politics.]
Topics: journamalism, social commentary, soft-core | Comments Off
By Graham Crumb | March 11, 2013
For years, the devil stood behind my shoulder,
More menacing than metaphor or fact,
And mocking, scrutinised my every act.
Strengthened by each sin, but never bolder,
He preyed on each miscue; and so bewildered,
I never knew so much as what I lacked.
The prism of his gaze was bright and cracked,
And through it, every failure fused and filtered.
No saint had ever such a close companion,
Nor misery as sweet, nor pain as dear,
Infallible, unflinching and sincere
Till hope, faith and belief were all abandoned.
In terror, in my guilt, I never crossed him,
But aged and bored, I find now that I've lost him.
Topics: literary | Comments Off
By Graham Crumb | February 6, 2013
Science doesn't require a God of any kind to be complete.
Some people construe this to mean that they can keep God in one pocket and science in the other. But science is much more dangerous than that. In rationalising a space between the two, people implicitly accept Aristotle's theory of the primum movens (or, unmoved mover). In other words, we can regress evolution, or cosmology or what have you back beyond the point of measurement, and beyond that resides the godhead. So Big Bang is okay, because God lit the fuse, as it were.
But the fly in the ointment is that you can actually push science past Big Bang and it still remains coherent (it's not easily testable, but it's theoretically coherent). Likewise, you can reverse engineer forces and causes of the evolutionary process past the origin of life. In other words, science doesn't just end where God begins, and vice versa. No, science is complete - that is, it can conceive of the universe in its totality independently of any conception whatsoever of a Creator.
… Which doesn't leave a lot of space for God, if you're honest about it.
(And God, for his part, says, 'I am that I am' and plagues me with boils. So, swings and roundabouts, I guess.)
Topics: hard-core, humour, wonk | Comments Off
By Graham Crumb | December 20, 2012
WordPress 3.5 has a very nice photo new gallery UI, and because I'm the kind of guy who just can't be happy with nice, I had to go and hack it to make it run a slide show by default.
If you're a wordpress.com user, you already have the slideshow feature – and I'll bet money that it's a damn sight more refined than mine – but for those of us running our own sites, here's all you need to create simple, straighforward slideshows using any size of image:
Read the rest of this entry »
Topics: geek, hard-core | Comments Off
« Previous Entries