[This week's Communications column for the Vanuatu Independent.]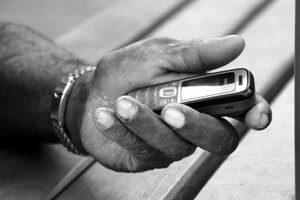 This week, Digicel Vanuatu officially unveiled their new GPRS mobile Internet service. Their first event was held on Thursday last week at the Port Vila market house. Digicel staff demonstrated their service to passers-by and helped those with compatible phones to activate the service.
The process is simple enough. Just call Digicel's Customer Care centre at 123, then tell the service representative the brand and model of your mobile phone. (Salesperson Maureen George offered some sage advice on this count – if you're not sure what model you've got, just tell the service rep what brand it is and how much you paid. The service rep will know which model you mean.)
If your phone supports GPRS, Digicel will enable your account for the Internet service free of charge. You will then be sent a message containing the proper setting for your phone. Just enter the PIN number (1234) and accept the updated configuration.
If your Digicel mobile isn't on the list of phones for which Digicel provides automatic configuration, don't despair. You can still use the service, but you'll have to enter the configuration values yourself. It's not too difficult, but if you're feeling uncertain, you might want to find a helpful geek to lend a hand.
Remember, though: Whether your phone is supported or not, you still need to call Digicel Customer Care at 123 to get your account activated.