[Originally published in the Vanuatu Daily Post's Weekender Edition.]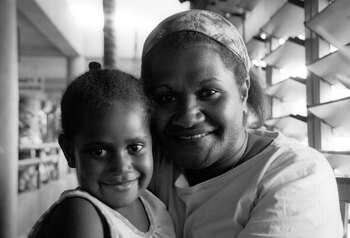 A quiet revolution is taking place in North Efate.
Awareness of the rights of women in Vanuatu flowered briefly post-Independence thanks to the labours of eminent advocates such as Grace Molisa and Hilda Lini. They laboured continually to ensure that the neglected majority – Vanuatu's women and children – were heard in the national dialogue.
Thanks to their generation, we have provincial and national Councils of Women, shelters in Vila and Santo and countless projects and services focused on improving conditions for women. To cap it all, over a decade of effort has finally given the Family Protection Act the force of law.
And yet, in spite of all this, women still face countless obstacles making themselves heard in daily life of the nation.
Lilly Lui wants women's rights to bloom again as they did in the heady days following Independence. The sole female candidate in the upcoming Efate North bye-election, she has been entrusted by women throughout rural Efate to voice their concerns on the national stage.