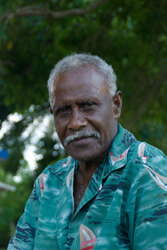 The problem with having 850 words a week is that I can only say one thing at a time.
Yesterday I wrote about the need for the development of a coherent and unifying political philosophy in Vanuatu. Today, I feel I should explain why the development of such a vision is a difficult – not to say intractable – problem.
This is Chief Kalori of Clem's Hill. One of the young turks in Efate's francophone population at the time of the Independence movement of the 1970s, he presided over a community responsive to the French argument for a go-slow approach. As members of a large, distinct minority, they felt they had every reason to fear being overwhelmed and shouted down by the largely Anglican/Presbyterian leadership of the Independence movement.
The French at the time were much more conservative in their approach to Independence. They are presently the last colonial power in the region that hasn't utterly divested itself of the trappings of overt rule. In the 1970s, the French quietly and not-so-subtly provided assistance to anti-Independence political parties (eventually united under the familiar mantle of the Union des Parties Modérées, or UMP) and supported rebellions on Santo and Tanna.
Picture Kalori, a young man of rank and potential in the 1970s, watching his fathers become isolated and shifted out of power, while young, foreign-educated firebrands radioed political speeches from hiding places in the bush only a few kilometres from his nasara.