[This week's Communications column for the Vanuatu Independent.]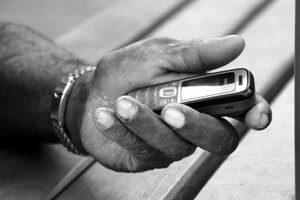 This week, Digicel Vanuatu officially unveiled their new GPRS mobile Internet service. Their first event was held on Thursday last week at the Port Vila market house. Digicel staff demonstrated their service to passers-by and helped those with compatible phones to activate the service.
The process is simple enough. Just call Digicel's Customer Care centre at 123, then tell the service representative the brand and model of your mobile phone. (Salesperson Maureen George offered some sage advice on this count – if you're not sure what model you've got, just tell the service rep what brand it is and how much you paid. The service rep will know which model you mean.)
If your phone supports GPRS, Digicel will enable your account for the Internet service free of charge. You will then be sent a message containing the proper setting for your phone. Just enter the PIN number (1234) and accept the updated configuration.
If your Digicel mobile isn't on the list of phones for which Digicel provides automatic configuration, don't despair. You can still use the service, but you'll have to enter the configuration values yourself. It's not too difficult, but if you're feeling uncertain, you might want to find a helpful geek to lend a hand.
Remember, though: Whether your phone is supported or not, you still need to call Digicel Customer Care at 123 to get your account activated.
There is no charge to enable mobile Internet service on your mobile phone.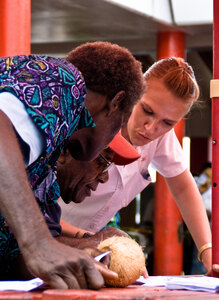 Interest so far seems to be rather high. When I spoke with them, Digicel marketing staff were quite excited by what they were seeing. Arnob Bhattacharjee, Head of Sales & Distribution, told me he'd seen a huge increase in the call volumes to their Customer Care line, most of it driven by interest in this new Internet service.
Frankly, I was surprised to hear this. You see, the value of having access to the Internet is so that you can contact those others who already have it. So there was some question in my mind about how quickly momentum would build for this new service.
When I first arrived in Vanuatu, it took the better part of a year to get the organisations I worked with to start checking and using email on a regular basis. At the beginning, email existed more as a convenience for overseas partners than for local use. One might expect a few messages a week, more if there was a particular job of work to be done. It was only after nearly everyone had continuous and individual access to the service that it became common.
It appears that Digicel's 70,000 strong user base is helping them in this regard. If their reports are correct, early adoption of this new service is quite significant. "Since our launch," says, Tanya Menzies, CEO of Digicel Vanuatu, "customers expectations have dictated the need for better and innovative services while staying in touch with loved ones and conducting daily business, hence our introduction of Digicel's state of the art EDGE\GPRS service."
She continues, "We will continue to rollout new innovations, being first to market with solutions that positively impact the lives of both our corporate and individual customers."
GPRS service fills an interesting niche within the overall Internet picture. In spite of the fact that local rates – 400 vatu per megabyte – are lower than the average commercial offering in the US and Australia, they're still quite high relative to fixed-line Internet services like TVL's. If you want to skype all day long, view video or download your latest software updates, GPRS is not the thing for you.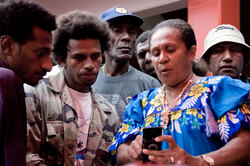 But when you think about the things a mobile phone does best – checking messages, getting a quick information fix or firing off a quick note to someone – Digicel's GPRS service is a moderately affordable and extremely efficient solution. A typical email message (without any files attached) is only a few kilobytes in size. You could reasonably expect to send and receive between 1-200 such messages before you'd used a single megabyte.
Sending a quick photo to your family in the islands, checking the weather or a shipping schedule – all these things are practical and affordable activities that can add real value to having a mobile phone.
Some mobile phones can do double duty as GPRS modems. Plug your modem into a laptop with a data cable, and you've got yourself a quick and easy Internet connection anywhere in Digicel's coverage area. Arnob Bhattacharjee assured me as well that USB GPRS modems will soon be available for sale at Digicel's flagship store in downtown Vila.
Again, bandwidth charges add up in a hurry, so don't expect to be able to treat this connection as an all-you-can-eat Internet buffet. Used wisely, it can provide extremely useful services, everywhere you go. And because it's available pre-paid as well as post, you can at least ration your intake.
Something else to bear in mind when you consider how to put this service to use: Not all mobile phones were created equal. Just because yours is GPRS-capable, don't assume that everything will be roses. As I've discovered to my dismay, the Motorola I bought some time ago (in anticipation of this day) has poor software, a terrible configuration interface, and doesn't seem capable of maintaining a data connection for more than about 5 minutes at a time.
To be clear: This has nothing to do with the quality of Digicel's service, and everything to do with the quality of my personal experience of it. If you're considering a new mobile with GPRS capability, choose it well, and insist that you be allowed to test it before you buy. That way you won't regret your choice.
Digicel plans further public events to let people know what this new service offers them. Details will be forthcoming in the next week or so.