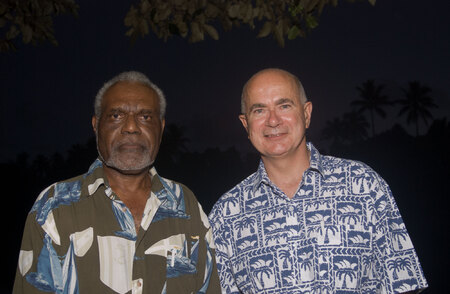 I had the privilege this week of being asked to take some photographs at the Vanuatu unveiling of the Pacific Economic Survey. The event was attended by two Australian Parliamentary Secretaries and by a number of fairly senior individuals in Vanuatu. The photos I took will be collected here.
I was proudest of the photo above. It's of two veteran politicians whose approach and presentation could hardly be further apart.
I don't know much about Duncan Kerr, the Parliamentary Secretary for Pacific Affairs. Indeed, I've not so much as chatted with him. Those who did this week spoke of a warm, quite likable and very switched-on individual. It's clear that in the photo he wants to do away with distance, to present himself with real, if practised, warmth and to make himself accessible. One imagines working with him in a spirit of comity and fraternal respect.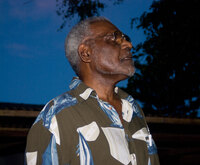 Chief Boulekone is one of the founding fathers of the nation. He was integral to the successful drafting of Vanuatu's Constitution, worked as a politician for many years, and has since become one of the more prominent observers of Vanuatu politics. He is respected all the more because he made the choice to exit politics when he saw the process becoming corrupted, yet distanced himself only enough that he could comment without ever being accused of partisanship or self-interest.
There are few politicians in Vanuatu who have not been compromised in some way, shape or form. Chief Vincent is one of them.
What struck me most about the photo at the top was the stark contrast between the two individuals. Kerr does his best (authentically, I don't doubt) to create the appearance of friendship. Boulekone's air is exactly what a chief is supposed to have: authority and a stern impassivity.
And that, my friends, pretty much sums up the difference between Australian and Vanuatu politics. The one thrives on alliances, the other on individual respect.